As a global citizen for building digital infrastructure, Kemp is committed to green products compliant with all relevant environmental statutory and regulatory requirements to be your trusted green partner and help protect our environment.
Kemp commits to only supplying products that conforms to the European Union RoHS Directives 2011/65/EU and EU 2015/863.
The RoHS 1 – Restriction of the use of certain Hazardous Substances in electrical and electronic equipment (EEE) – directive (2002/95/EC) has applied to certain categories of EEE since July 1st 2006. The new revised RoHS 2 directive (2011/65/EU) replaced RoHS 1 on January 2nd 2013 and the new RoHS 3 directive will amend the RoHS 2 directive to add 4 additional restricted substances to the already 6 mentioned.
The substances to which the RoHS 1 (RoHS 2 and RoHS 3) directive applies are (including the maximum concentration values by weight in homogeneous materials):
Lead (Pb) – 0.1%
Mercury (Hg) – 0.1%
Polybrominated biphenyls (PBB) – 0.1%
Hexavalent chromium (Cr(VI)) – 0.1%
Cadmium (Cd) – 0.01%
Polybrominated diphenyl ethers (PBDE) – 0.1%
Bis(2-ethylhexyl) phthalate (DEHP) – 0.1 %
Butyl benzyl phthalate (BBP) – 0.1 %
Dibutyl phthalate (DBP) – 0.1 %
Diisobutyl phthalate (DIBP) – 0.1 %
Kemp's hardware does not exceed (by weight) the concentration levels of the above substances.
Under the RoHS directive 'producers' of equipment are responsible for ensuring that their products do not contain any of the 10 restricted substances. A 'producer' is defined as any person/organization who:
manufactures and sells electrical and electronic equipment under their own brand;
resells under their own brand equipment produced by other suppliers; or
imports or exports electrical and electronic equipment on a professional basis into a member state.
Under RoHS 1 there is no specific requirement on how products will be identified as RoHS Compliant. Many producers adopted their own logos with Kemp using the following logos on our standard product where applicable: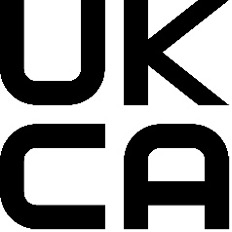 RoHS 2 is a CE marking directive that is applied in the European Union from 2nd January 2013.
The UK Conformity Assessed (UKCA) marking is a UK marking directive from 1st January 2021.
All products within the scope of CE and UKCA marking directives must meet the following requirements:
CE or UKCA mark finished products
Declarations of Conformity (D of C) to include RoHS directive
Technical documentation to be retained for 10 years
This requirement affects manufacturers, importers and distributors and means that, the whole of the products EU or UK supply chain has legal responsibility for compliance.
As a manufacturer, Kemp has a responsibility to complete the following activities for all products within scope:
Compile technical documentation
Prepare relevant Declarations of Conformity
CE or UKCA mark the products
Mark products for traceability
Retain technical documentation for 10 years
Work with national authorities to demonstrate compliance or help to ensure compliance
If you require any more information regarding Kemps commitment to RoHS, please contact compliance@kemp.ax.
Signed:
Derek Kiely
VP of Product
derek.kiely@progress.com
Kemp Technologies