Integrating several Azure-based web apps into a single, seamless end-user experience without weeks of code-level integration, Unigo relied on Kemp's VLM for Azure to get up and running in under a week.
About the Customer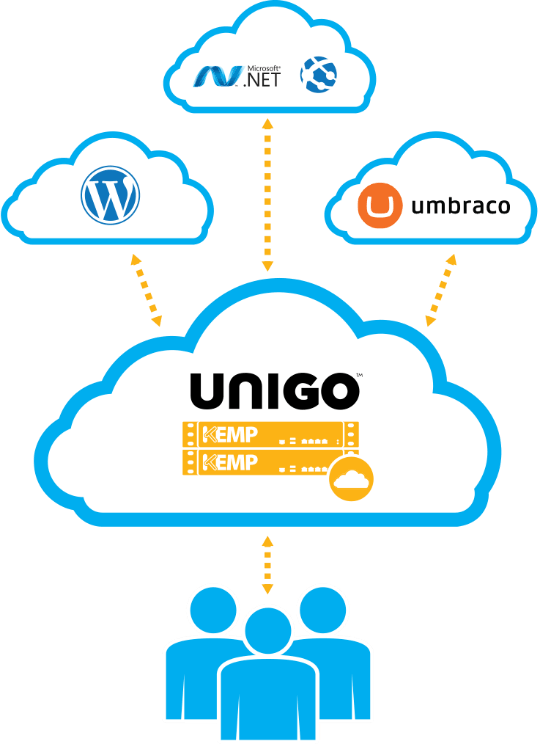 Unigo provides current and future college students cutting-edge tools, compelling content, and essential information, empowering students to make the best decisions about their college experience. With a thriving community of over 1.6 million members, Unigo.com is the premier network for current and future college students to get to where they're going.
The Challenge
After purchasing another company, the company was challenged to figure out the simplest way to integrate the newly acquired firm's web application without having to actually merge its codebase with the preexisting unigo.com site.
The Solution
Since both applications were already powered by Azure Web Apps, Unigo turned to the Azure Marketplace and discovered Kemp's Virtual LoadMaster™ (VLM) for Azure and its layer 7 content switching capabilities. Kemp let Unigo unify its two independently developed and managed web application environments under a single URL (unigo.com). In the process, VLM for Azure transformed the way Unigo manages the lifecycle of its web apps, allowing changes to be implemented and if necessary, rolled back, in minutes.
The Results
Kemp enables Unigo to continue the independent acquisition and development of discrete web applications but deliver the combined functionality of those apps as a unified end-user experience through a single domain (unigo.com). This also allows Unigo to maximize Search Engine Optimization (SEO) through its primary domain name/URLs.