There are a number of issues that must be addressed to make a hybrid cloud deployment run smoothly. Two of the most important issues are:
Security/Identity
Ensuring that only the right employees, customers or partners access the right applications and information at the right time. Ideally, most organizations would want to harness their existing enterprise identity management architecture across public and private clouds rather than forcing users and IT to wrestle with separate identity platforms.
Workload Management
The ability to deploy workloads instantly and flexibly across public and private clouds to support a variety of business needs and hybrid cloud scenarios.
Both of these issues can be addressed with the help of load balancers, also known as application delivery controllers, which can also be used in a public or private cloud environment to enhance performance, scaling and business continuity.
A load balancer is a hardware appliance or software solution that sits in front of an application server farm, acting to the outside world as a virtual server and functioning as a reverse proxy that receives all incoming network or application traffic and distributes it across servers or virtual machines in the farm. The most common use of load balancers is in front of Web server farms. However, depending on the actual solution, load balancers can also perform equivalent functions with banks of servers hosting components of Microsoft Exchange, SharePoint, Lync, DNS services and Microsoft Active Directory Federation Services, the latter of which provides single sign-on access to cloud based Windows systems and applications.
Today's load balancers have evolved to function at several layers of the OSI model. Many include application awareness (Layer 7) to detect application failure--rather than just server failure (Layer 4)—and direct traffic to remaining functioning servers and applications, and to distribute requests to servers running different applications and content. Some of today's load balancers even incorporate Layer 2 and 3 awareness to detect network congestion or port failure in a software defined network (SDN) and route requests appropriately.
Global load balancing capabilities can also be deployed to send traffic to the right global datacenter or cloud service, depending on business need or user location.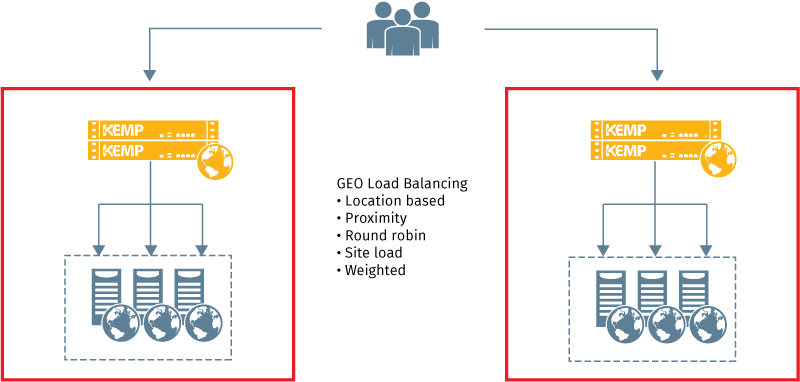 fig 1. Hybrid Cloud Topology
Today's load balancers are also offered with a variety of optional or built-in functions, including fast SSL termination, authentication and fine-grained application access control capabilities, intrusion prevention and application firewalls.
More capable load balancers used to be sold principally as hardware appliances using specialized processors to achieve top performance. However the processing power of today's standard X86 servers has advanced to the point where even the most sophisticated load balancing technologies can be deployed easily and perform well in software installed on standards based servers.
That's good news for users of public cloud services because it means an IaaS, PaaS or even SaaS provider can offer load balancing solutions as part of the service package. Many do, including the major players such as Amazon Web Services and Microsoft Azure.
That means that users can take advantage of a load balancing platform across their hybrid cloud environment for both security/identity management services and workload management.