It has always been in fashion to have a comprehensive emergency preparedness plan for your business, but that doesn't mean that we all need to buy the most expensive outfits. When talking about emergency preparedness, it's always important to balance benefit vs. cost.
Emergency Preparedness and Remote Access
Part of any emergency preparedness plan is the ability to have some percentage of the workforce working securely and effectively from places other than their usual office. Recent events have only made this part of the plan more important than ever, and we now generally need to ensure that a larger percentage of the workforce may need to work outside the office for an extended period of time. It's vitally important that we provide remote access, as I said above, "securely and effectively".
How Can LoadMaster Help?
Providing remote access generally requires a mix of technologies that work seamlessly together to create a remote working environment:
Easy to configure and use Point-to-Point Access to provide a bulletproof pathway for remote user to access company resources.
A secure authentication and Single Sign-On (SSO) front end ensuring that only authorized users gain access to applications.
A Virtual Desktop Infrastructure (VDI) providing a familiar and performant remote working environment.
If your organization employs or is considering VDI to provide employees with an always-available, sophisticated graphic desktop environment, then LoadMaster load balancers can help you to leverage its unique vantage point between clients and applications to manage constantly changing VDI demands across your resources so that your users can easily transition from the office to working remotely, and back again.
The remainder of this post will focus on how to quickly get started using LoadMaster to load balance VDI applications. Future posts will cover the first two items in the list above.
How Does VDI Work?
Simply speaking, VDI allows remote access to resources that are centrally located and managed. A typical configuration that includes a LoadMaster load balancer High Availability pair: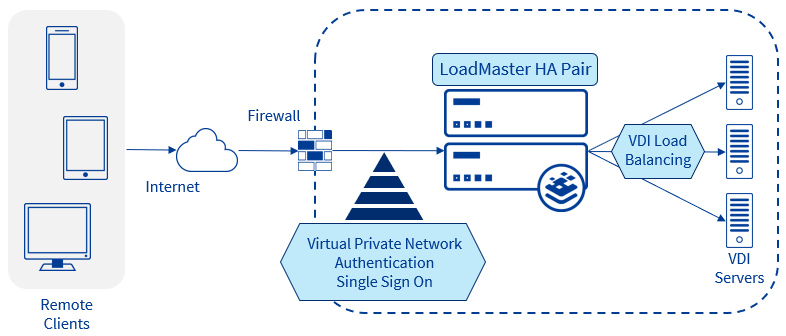 To log into the VDI application's gateway server securely may require the following services, which can be supplied directly by LoadMaster:
Virtual Private Network (VPN) tunneling for secure Remote-Client-to-LoadMaster connections
Authentication services (such as Active Directory and LDAP) for secure login to the VDI environment
Single Sign On services for simpler access to multiple back-end applications
Once the user logs into the VDI environment, they will be able to remotely and seamlessly access the same services that they use when they are in the office. They may do this by remotely logging into their PCs in the office, or by accessing services specifically setup for remote employees.
What VDI Products Does LoadMaster Support?
LoadMaster officially supports the following VDI products with custom templates that you can use to create a working load balancing configuration in minutes.
Each template package above contains one or more Virtual Service (VS) templates that you can use to quickly create a LoadMaster VS tailored for your application.
Uploading an application template package to LoadMaster and creating a VS from an application template is simple:1. Download the template package you want to install using a link from the table above.2. Log in to the LoadMaster UI and navigate to the Virtual Services > Manage Templates page:a. Click Choose File and use the browser page that appears to select the template you downloaded in Step 1. Click Open. b. Click Add New Template. c. If you were to repeat the above two steps for the 3 template packages listed in the table above, the Template Management page would now look like this (blue lines added to distinguish the 3 template packages):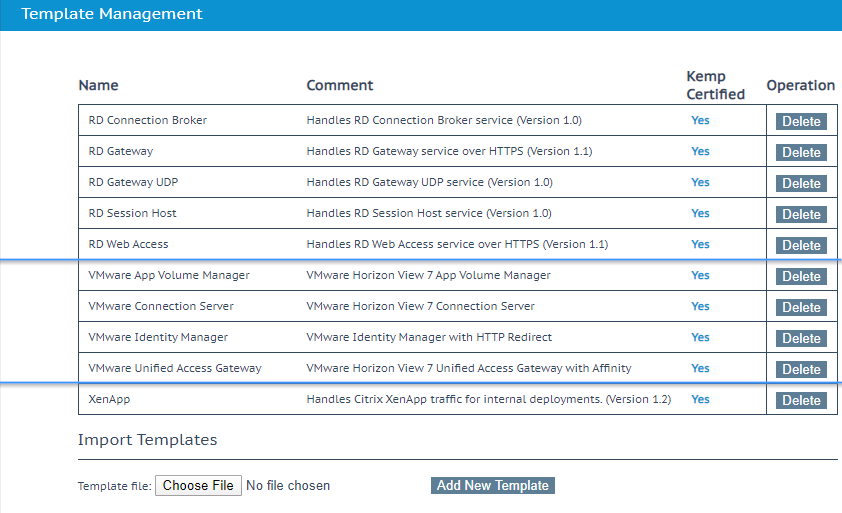 Two of the template packages (RDS at top, followed by Horizon) contain multiple VS templates that correspond to the various components of the target application. The Citrix template package contains a single VS template that is used for all application services. 3. Create a VS using one of the templates:a. Navigate to the Virtual Services > View / Modify Services page. b. Click Add New. c. Type the IP address to be used for the virtual service into the IP Address text box.d. Choose a template for the VS from the Use Template drop-down box. For example, to create a VS for the VMware Connection Server, click the template name in the drop-down.e. Once you select a template, the Port, Service Name, and Protocol parameters are automatically set by the template, as in this example: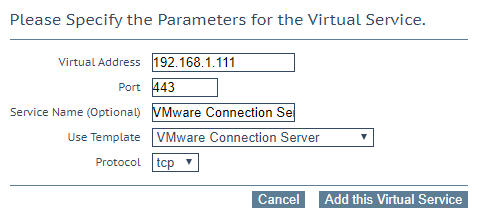 f. Click Add this Virtual Service to create the VS and return to the View / Modify Services page — which now lists the VS you just created.
4. Complete the configuration of the VS by clicking the Modify button to the right of the new VS in the View Modify Services page. Typical settings include:a. Adding SSL certificates to the VS, if required.b. Setting WAF and ESP options, if these features are enabled.c. Adding the Real Servers that are hosting the VDI application to the VS.
For detailed configuration instructions, including an explanation of the VS settings set by each template, see the Configuration Guide links in the table of VDI products above.
Summary
LoadMaster provides cost-effective, secure, and efficient load balancing for Remote Access & Virtual Desktop Infrastructure applications. Several industry-leading applications are supported Kemp-approved by LoadMaster templates and others can be configured manually.
Kemp has been an industry leader and innovator in application delivery for a long time – load balancing and workload security are part of our DNA. Kemp has a range of offerings and features to help you deploy a wide range of application workloads, including VDI, and complement your existing infrastructure to help you build the best solution.
Coming Soon
In my next post, I'll circle back around from the applications being load balanced to the front-end and talk about LoadMaster's Virtual Private Network (VPN), Authentication, and Single Sign-On (SSO) capabilities that combine to provide a secure remote access solution.