The right load balancer for your application may not be the first one you think of, which for many is F5 Networks. IT architectures have evolved and what was popular in the past is not necessarily the right choice today. F5's legacy application delivery controller (ADC) products are based on a product that was designed in the mid 1990's before there was virtualization, public clouds, and software-defined anything (SDx). F5 has evolved their solution to adapt to these changes, but they have done this by regularly rearchitecting the original framework resulting in unnecessary complexity
In contrast, Kemp designed the LoadMaster load balancer for today's IT architectures and focuses on what is needed today and tomorrow. We believe that the approach that Kemp has taken to focus on full featured software-based load balancing that is flexible and agile is the better technology model to meet business IT needs.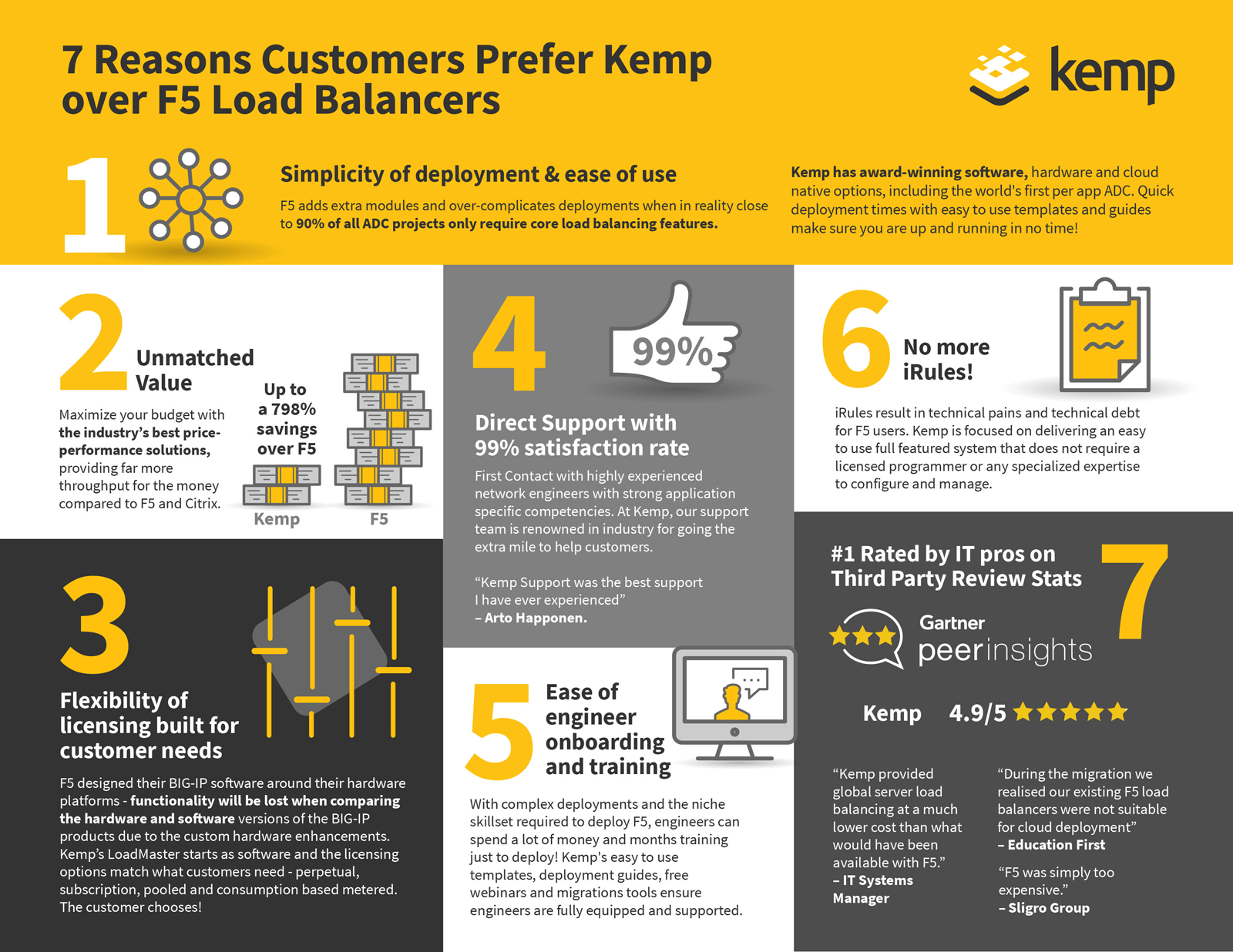 Remodel or Build New?
The architecture of the F5 BIG-IP platform can be viewed as a legacy, restrictive framework that makes it less-than-ideal for today's load balancing needs. F5 BIG-IP is optimized for hardware platforms with custom silicon. Today's networks are mostly virtualized and hybrid cloud. These IT models offer agility and elasticity that proprietary hardware solutions are not designed to deliver.
The requirement to support the original F5 BIG-IP blueprints means that F5 is spending effort to retool the product instead of building a clean solution for the very different IT environments that are seen today.
Like a home, it is more cost effective and quicker to build a new house instead of renovating an older building that is not designed for the purpose in mind. The result of the renovation will create a patchwork feel of old and new. There will be costly targeted work tearing down the old and retrofitting the new design into a fixed framework. In comparison the house built from the ground up will not have any legacy issues.
Kemp understands that virtualization and flexibility is key to IT architectures and it is important to build a solution that does not have its roots tied to a legacy hardware-based framework. In turn, the Kemp solution is streamlined for ease of use and support while adapting to the evolving IT landscape.
Complicated and customized
F5 BIG-IP has made the addition of other functions complicated and hard to integrate. Over time, F5 has added functionality with modules to extend their market reach beyond core load balancing. The interactions between their different modules – Local Traffic Manager (LTM), DNS, formerly Global Traffic Manager (GTM), Application Policy Manager (APM), Application Security Manager (ASM), Advanced Firewall Manager (AFM), Policy Enforcement Manager (PEM), and Carrier-Grade NAT (CG-NAT) – create head-spinning scenarios for configuration and troubleshooting.
To keep the legacy platform design relevant with current IT architectures, F5 added the highly customizable iRules programmable interface using TCL and node.js to manipulate the data plane. While flexible, iRules requires an experienced programmer to manage the scripts on a regular basis. The use of iRules is often expected in lieu of product development.
Kemp has designed LoadMaster to be a load balancer first. The system is easy to configure and does not require customized programming on behalf of the customer. This means a simpler configuration process and eases the burden of onboarding the network architecture and operations teams. Kemp builds upon the load balancer technology to offer global server load balancing (GSLB) services and edge authentication solutions. Web application firewall (WAF) technologies are also incorporated since the content inspection engine of the load balancing reverse proxy is the ideal point to offer application-aware security.
The bottom line
Sometimes the best technology from a decade ago, isn't the best option today. Engineers expect easy to use, easy to automate flexible software that provides powerful business impact with immediate and direct contact support. Kemp has created a list of top 7 reasons anyone should consider the Kemp LoadMaster solution instead of F5's BIG-IP product. Simplicity of deployment and ease of use, unmatched value, and flexibility of licensing for today's virtualized environments are just a few of the reasons to consider Kemp for a business' load balancing needs.
If you want more details, go our Kemp VS F5 comparison page or to the 'Why Kemp' website. For more details on how to migrate F5 iRules to LoadMaster click here.