Sometimes, when you are trying to provision something in a test environment, lab or as a POC , the provisioning process for a load balancer could take longer than planned. Kemp LoadMaster is designed to be a very agile and flexible solution and supports a number of different hypervisor and cloud platforms including Hyper-v, VMware, KVM, Nutanix, Microsoft Azure and AWS clouds.
Instead of focusing on deployment requirements – which can be found here – I will demonstrate a very simple and straight forward method to automate the provision of a Virtual LoadMaster in Hyper-V in 3 steps: Download Virtual LoadMaster at Kemp.ax/vlm-download and download a VLM for Hyper-V image.
Note: you will need a Kemp ID – here's how to get it –
Next, open PowerShell or Visual Studio Code with Powershell Extension and Admin privileges and convert the VHD to VHDX with the line below:

#Convert the VHD to VHDX

#Convert-VHD "C:\Users\Public\Documents\Hyper-V\Virtual hard disks\LoadMaster.vhd"

"C:\Users\Public\Documents\Hyper-V\Virtual hard disks\LoadMaster.vhdx"

Provide the directory where the VHD is located and then provide the location where you want to store the vhdx.
Now you need to provide the minimum resources that you'll need to spin up a Virtual LoadMaster. As a default we assign 3Gb of RAM however you can add more if you prefer:

$name=read-host"Enter your LoadMaster Name"

$Path="C:\Users\Public\Documents\Hyper-V\Virtual hard disks\

"New-VHD-Path"$path\$name.vhdx"-ParentPath"$path\LoadMaster.vhdx"-Differencing

New-VM-name$name-vhdpath"$path\$name.vhdx"-computername"localhost"-SwitchName"Default Switch"

$vm=get-vm$name

Set-VM$vm-AutomaticStartAction Nothing

Set-VM$vm-AutomaticStopAction ShutDown

Set-VM$vm-DynamicMemory

Set-VM$vm-MemoryMaximumBytes2147483648#2gb -> 2147483648

Set-VM$vm-MemoryStartupBytes2147483648

Set-VM$vm-ProcessorCount2

Start-VM$vm

You will be prompted to enter a name for the new Virtual Machine: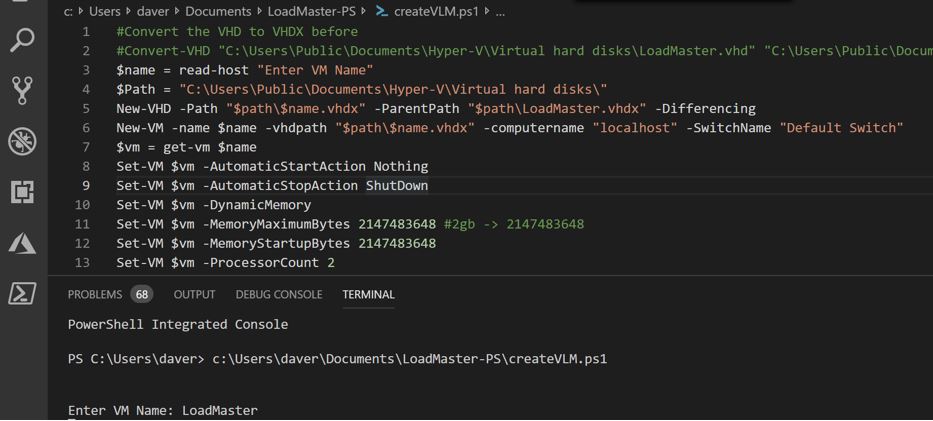 Result:
Here is an example of the output:
Size:17179869184
MinimumSize:16779313152
LogicalSectorSize:512
PhysicalSectorSize:512
BlockSize:2097152
ParentPath: C:\Users\Public\Documents\Hyper-V\Virtual hard disks\LoadMaster.vhdx
DiskIdentifier: 058C5030-9345-44E5-ACDC-7AABB2286AC9
FragmentationPercentage :
Alignment:1
Attached: False
DiskNumber:
IsPMEMCompatible: False
AddressAbstractionType  : None
Number: 
Name: kemp-loadmaster
State: Off
CpuUsage:0
MemoryAssigned:0
MemoryDemand:0
MemoryStatus:
Uptime:00:00:00
Status: Operating normally
ReplicationState: Disabled
Generation:1 
Note: I am using the "Default switch", you might want to update it with your own configuration. Next go to your Hyper-V manager and you will see your LoadMaster running, just connect to the console.

Right-click on the LoadMaster VM and select "Connect":

You should see the console below, default credentials which are:
User: bal Pass: 1fourall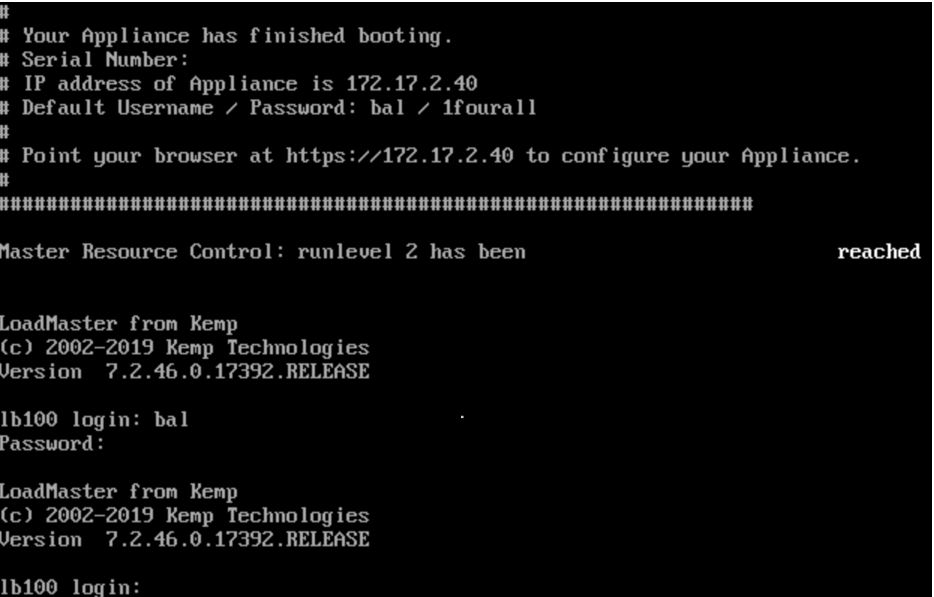 Proceed to the license agreement and you are good to start the test environment!