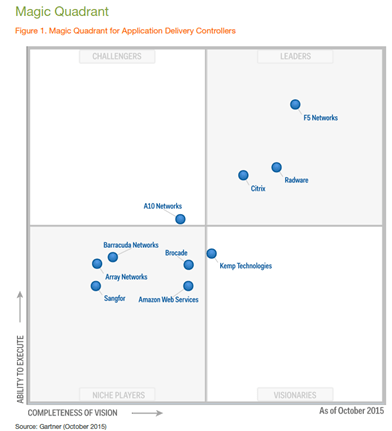 This month marked an exciting milestone for KEMP, and for me personally, as CEO of the company. Gartner published the 2015 Magic Quadrant for Application Delivery Controllers on October 6, 2015 and KEMP Technologies met the criteria for inclusion for the third consecutive year, this time progressing across to the visionaries' quadrant.Gartner, in part, defines visionaries as "vendors that have provided key innovative elements that illustrate the future of the market and have an ability to influence the direction of the market toward new approaches…visionary status is not a matter of deploying features but, rather, requires a vendor to be early enough to demonstrate new approaches while having an ability to change key aspects of the market." This year, KEMP is the only vendor included in the Visionary quadrant of the MQ!* We believe that this provides strong recognition both of KEMP's vision as well as our ability to execute on strategy to disrupt the ADC market and continue our penetration into mainstream enterprise.
KEMP has transformed itself over the last 4 years, growing significantly in terms of talent, technology, partnerships and marketshare. A deep focus on these pillars have played a key part of our annual business plan.
Company Growth
In Q1, 2012 we had approximately 40 employees globally. Just three years later, we'll be closing out Q4, 2015 with over 200 employees and a 3x revenue growth. "Through the expansion, I've focused on building a team that is skilled at listening closely to our customers and synthesizing the input for actionable business decisions. If the market feedback doesn't match up to our strategy we don't ignore it, but look to identify where and why the delta exists and address it. At a minimum we seek to at least consciously accept it with an understanding as to the why. This strict requirement of market contextual awareness extends from my executive team across all customer facing departments. It's intrinsic to our organization and a key element of our success," Ray Downes, CEO, KEMP Technologies.
Customer retention has also been a key driver for company growth. A customer-centric culture is what fuels this. We see our customer's challenges and problems as our challenges and problems, and instill this across our entire professional services and support organization. This has led to sustained customer satisfaction rates close to 100% over the past year. When customers are happy they typically stay as long-term customers and fans.
Technology Approach
In doing analysis of our customer base, we've learned that we have a wide variety, with some that like to live closer to the bleeding edge of technology trends and others that have built a more conservative strategy. So for KEMP, while looking for new and improved ways to meet the needs of our traditional customers, we're also keenly focused on bringing new technologies and approaches to the application delivery market that can, in fact, impact the direction of the market as a whole. To note a few examples, KEMP was the first ADC vendor more than a decade ago to leverage common off the shelf x86 architecture combined with proprietary and open source software to deliver Layer 7 load balancing, SSL processing, and traffic acceleration. We were the first ADC vendor without its own hypervisor stack to offer virtualized ADCs to the market in the mid-2000s. We were the first ADC vendor to offer Layer 7 ADCs in the Microsoft Azure public cloud, an SDN-enabled ADC application for HP VAN, and we are the only vendor to offer ADCs for bare metal that support optimized native operation on platforms from the likes of Dell, HP, and Cisco.
From a technology perspective, we've made sure to effectively navigate the divide between the needs of customers that are still leveraging traditional architecture approaches and those that are starting to take advantage of newly emerging paradigms. Over the last several years, there's been a lot of "marketecture" from vendors around 'moving from inflexible and legacy frameworks to those that are elastic, scalable, and modular'. However, it's only recently, that this is becoming a reality, both from the possibilities that innovators are making available and the appetite for adoption in the market. "We're keen on using this climate to help customers solve problems in new ways, whether it's implementing capabilities in our product family that enable hybrid cloud, adapting our architecture to take advantage of network function virtualization (NFV), or building interfaces that allow us to help customers meet SLAs and achieve higher Quality of Experience (QoE) by leveraging software defined networking (SDN). Our goal is to solve industry challenges around agility and hardware abstraction in new and innovative ways. We're accomplishing this by capitalizing on our platform ubiquity and the DNA that was implemented when we established the company to accelerate Softwarization of the network and application delivery services," Simon Roach, CTO, KEMP Technologies.
We've also been very calculated at how we've architected our roadmap to enable us to separate technology progression from 'productization'. We're careful not to fall into the trap of treating our roadmap like a Gantt chart or project management tool. "Since the expectation is set inside and outside of the organization that our roadmap is a plan and not a commitment, free and open innovation is fostered. We're OK with making changes to planned timelines when needed, saying "No" to skirt feature creep, or removing projects altogether to enable adaptability to the market, customers, and our competition. This approach, in part, contributes to the agility at which we're able to operate," Jason Dover, Director of Product Line Management, KEMP Technologies.
Market Awareness
Even with great people, great technology, and great products, it does us and potential customers little good if they don't know that they exist or we don't effectively map to their needs. While many organizations maintain a rigid dichotomy between sales and marketing, we've focused on building an integrated team that allows us to strike a balance between a strategy that solely focuses on reaching the right person versus one that only considers reaching the right type of people. This enables us to rapidly drive leads and build a strong top of funnel flow while methodically tweaking nurturing activities to quickly identify which should be pushed further down to the middle or bottom versus those that need more time at the current location. "Using a scientific customer discovery and customer development process enables us to craft the right messages and enable our internal and extended sales & marketing team to use it to address our target personas with laser focus. We've implemented a holistic digital strategy that spans traditional marketing, brand building, SEO, social, and content. This has been a key part of our consecutive y-o-y 30%+ growth over the past two years," Peter Melerud, Co-Founder & CMO, KEMP Technologies
Conclusion
We're ecstatic to have been named as a Visionary and proud of the acknowledgement of our ability completeness of vision. We're looking forward to yet another year of innovating and helping our customers meet their application delivery needs.
*Graphics were published by Gartner, Inc. as part of a larger research document and should be evaluated in the context of the entire document. To receive a complimentary copy of the 2015 Gartner Magic Quadrant for Application Delivery Controllers, visit https://kemptechnologies.com/gartner-magic-quadrant-visionary/
About the Gartner Magic Quadrant
Gartner does not endorse any vendor, product or service depicted in its research publications, and does not advise technology users to select only those vendors with the highest ratings or other designation. Gartner research publications consist of the opinions of Gartner's research organization and should not be construed as statements of fact. Gartner disclaims all warranties, expressed or implied, with respect to this research, including any warranties of merchantability or fitness for a particular purpose.
Gartner, Magic Quadrant for Application Delivery Controllers, Andrew Lerner, Mark Fabbi, Danilo Ciscato, Joe Skorupa, 06 October 2015