Microsoft released a public preview of Exchange Server 2019 in July. This early release is designed to let system administrators and technical architects install the next version of Exchange in controlled test environments to get a feel for the features that will soon be available and to allow them to start planning for rollout into their organizations.

Like all preview releases the feature set is not finalized at this time. Microsoft will be discussing Exchange Server 2019 extensively during the Microsoft Ignite 2018 conference in late September. Providing the public release allows Ignite attendees to try the product and arrive at the conference with better knowledge and ready to discuss Exchange Server 2019 in depth with the Microsoft Engineers in attendance.
From looking at the Public Preview release, and the information Microsoft has released before Ignite 2018, here are some changes and additions to Exchange Server 2019 that are worth highlighting:
Exchange Server 2019 can fully use the powerful server infrastructure that is available on the market today. As an example, it can fully use processors with up to 48 cores and can address up to 256GB of RAM in each server or virtual machine.
A mixture of fast SSD drives and slower conventional hard drives can be used to provide storage for Exchange Server 2019, with the best storage type for each type of data used without impacting performance.
Mailbox Database Search Indexes are now stored in the mailbox database and not as a separate file. This improves performance and makes it easier to manage, backup, and restore mailbox databases.
There is better integration for calendars between on-premise Exchange Server 2019 accounts and Office365 messaging accounts. Security permissions for sensitive on-premise calendars can prevent forwarding to accounts in the Office Cloud for example.
There is deeper integration with Skype for Business. The Unified Messaging Server Role has been eliminated and Skype for Business is used instead.
Exchange Server 2019 will be compatible with both Windows Server 2019 and Windows Server 2016, although the former is recommended. This is to be expected, but it's nice to see Windows Server 2016 as a fully supported platform option.
It's always interesting when a new release of Exchange Server is imminent to compare it to the previous versions, to see the evolution and improvements over time. The table below compares 20 metrics for the 2013, 2016, and 2019 releases of Exchange Server: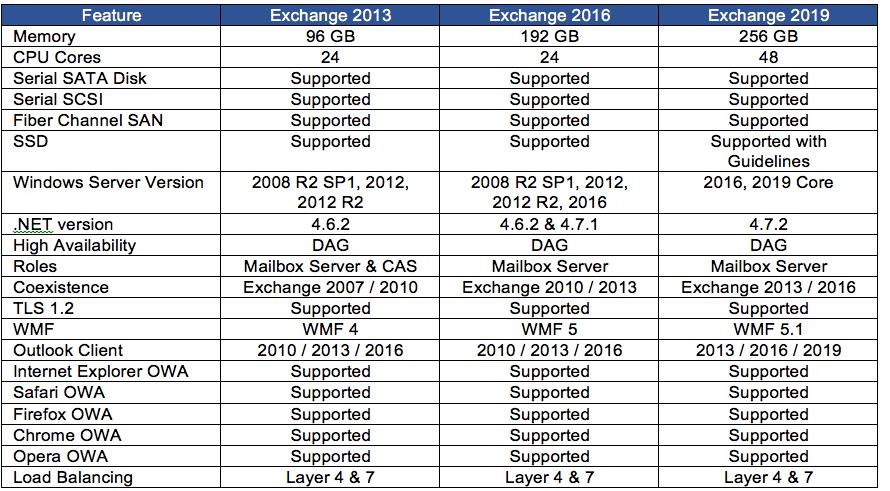 It'll be interesting to see how Microsoft positions Exchange Server 2019 at the upcoming Ignite conference. Microsoft's messaging in recent years has been moving from the on-premise model to the hybrid and cloud model with Azure and Office365. Many organizations still need to have the ability to deploy secure, modern messaging systems on-premise.
We're looking forward to seeing Microsoft Exchange 2019 fill that role, starting at the Ignite Conference.