Hutchison Ports EIT is located at Ensenada Port, Mexico and is 110km south of the US-Mexico border along the Pacific Ocean. It is one of Mexico's few specialized container terminals, dedicated to the movement of containers, bulk goods and general cargo handling offering quality services through its state-of-the-art equipment.
Hutchison Ports EIT is a member of Hutchison Ports, the port and related services division of CK Hutchison Holdings Limited (CK Hutchison). Hutchison Ports is the leading investor, developer and port operator in the world with a network of port operations in 52 ports spanning 26 countries in Asia, the Middle East, Africa, Europe, the Americas, and Australasia.
The organization stands at the forefront of technological advancement in the ports industry. Through continuous investment and countless exploration, Hutchison Ports has developed cutting-edge solutions that contribute to greater efficiency across every aspect of its operations. To stay ahead, the company continues to innovate and use cutting-edge technologies and equipment that satisfy the needs of its customers.
The Challenge
Hutchison Ports EIT's commitment to providing integral port services for foreign trade in Mexico requires that its mission-critical internal applications are available and operating 24/7. One such mission-critical application is their Next Generation Terminal Management System (nGen), which enables the Hutchison Ports to increase capacity, service and profitability.
Developed in 2003, nGen optimizes, innovates and collaborates terminals with operations intelligence, execution plus control, reporting, and inventory. Today, nGen generates over 60% of the Hutchison Port Group's total throughput.
Hutchison Ports EIT had two data centers in Mexico connected by fiber, and almost all of its infrastructure relied on VMware. As the company began to standardize its applications, it became a critical challenge to ensure that these applications maintained acceptable levels of continuous performance despite any temporary failures that could occur in services or the data centers.
The Solution
Hutchison Ports EIT began the search for a leading load balancing solution and reviewed the Gartner Magic Quadrant for Application Delivery Controllers. Upon conducting a review of three ADC vendors from the guide, they chose Kemp.
The decision to choose Kemp was based on the performance levels that Kemp could provide combined with ease of installation and ongoing management. Another key value-add was the fact that Kemp was a VMware Elite TAP Partner that delivers load balancing software that is VMware Ready.
Hutchison Ports opted for the Kemp Virtual Loadmaster as the preferred solution and deployed an HA configuration in front of their nGen servers based on WebLogic and Linux Redhat 7.5.
"Kemp´s Virtual Loadmaster was provisioned in a Highly Available active/passive mode to maximize the efficiency of the company's servers through the intelligent distribution of application requests to the available servers and also by managing the processes/intensive tasks of the server, improving the performance of nGen." – Dave Rendon, LATAM Channel Account Manager, Kemp Technologies.
The Result
Since the installation of the Kemp Virtual LoadMasters in its environment, Hutchinson Ports EIT has been very satisfied. Kemp is providing its users with a uniform and highly available application experience which contributes to the efficient flow of port activities.
"A great benefit of the Kemp Virtual Loadmasters for Hutchison Ports was not only pricing but its simplicity of administration." – Clemente Zayas, OS Administrator, Hutchison Ports EIT, Paolo Rojas – Infrastructure Analyst, Hutchison Ports.
The Kemp LoadMaster distributed the traffic across the nGen nodes seamlessly, assuring resiliency across its operative and administrative data centers as shown below: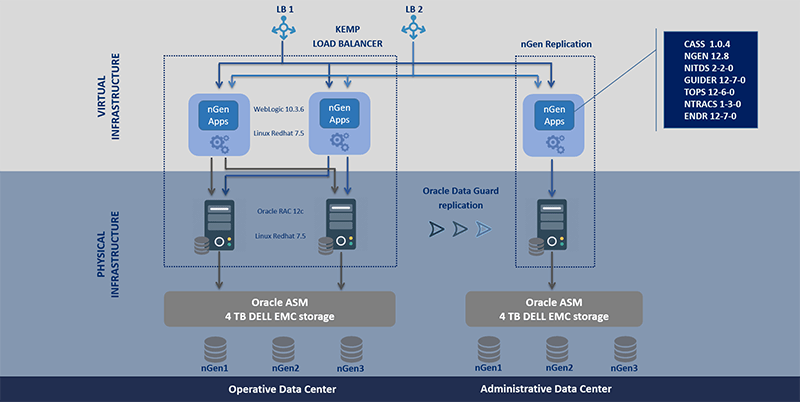 Commenting on the overall impact provided by the LoadMasters, Ismael Badillo, CEO of Fastbit Mexico who consulted on the project said, "The Kemp LoadMaster helped to achieve High Availability for Hutchison Port EIT's applications, increase the level of web application security, provide a better experience to users and ensure continuity in the business."